Click here for all of our Sex + Dating coverage
"Kink" is a relative term. Some people's kinkiest experience was being "a human cake at a fetish night" (seriously). Other people just masturbated "four times in one afternoon," which might not seem as adventurous as being slathered in icing but is making us envious of having that much free time.
What connects almost all the "kinkiest thing" answers from our Sex + Dating survey-takers is that the people involved found it all really, really hot. No shame. This is a judgement-free space, so let's experiment a little Halifax and see what feels good.
———
"My previous partner was into exploring a lot of my boundaries in a really respectful way. We tried a lot of exploratory fetishes together:
foot
stuff; butt stuff; costume stuff. He always made it very sexy. However weird I may have thought it at first, I always got into it because of how into
it he
was without ever making me feel pressured."
"Nothing as crazy as I'd like. I walked in on a friend and a casual partner having sex and was asked to join in. Nice and spontaneous."
"I love finding boys who want me to peg them. I'm still thinking about the last one."
"Being tied up, blindfolded and dominated for hours (teased, pleasured) but not allowed to express
myself
."
"Left the Dome at
3am
to go hook up with a girl from Tinder. On my way there she informed me she was really high and also lined up a guy to have a threesome with us. I arrive and turns out the guy is her professional firefighter neighbour who meets me outside his house. Long-story short, she never showed up and I got the boning of my life from a guy with a Channing Tatum bod."
"New BF threw me on
hotel
bed, ripped my clothes off and ate my...everything...was all new to me."
"Was camping in Inverness, Cape Breton. Off-the-beaten-path type camping, the type where if you need to poop, you go do it the woods and use some leaves. Anyways, there was a huge cliff and there was
natural
path that
lead
down to a gorgeous beach. At one part of the
beach
there was a part where a fresh water river came off the cliff and made a waterfall, flowing into the ocean. A girl (with whom I had
a FWB-type
relationship) and I had phenomenal sex right under that waterfall."
"Daddy/daughter role-play with an internet stranger. We never spoke before or after our encounter. Fucking hot. Full bondage, full toy use, sexual and emotional punishment."
"Nothing overly kinky. My best friend and I making out with each other on top of a guy, who I later had sex with."
was he missed
my bouncing boobs, so he tore it off midway through."
"Dressed in a girl's panties and then peed on."
"Possibly being tied face-down on the bed and getting played with via magic wand/ spanked and whipped and gagged. All while having nasty, horrible things whispered in my ear. Or maybe having my partner spit in my mouth during sex...that was pretty kinky."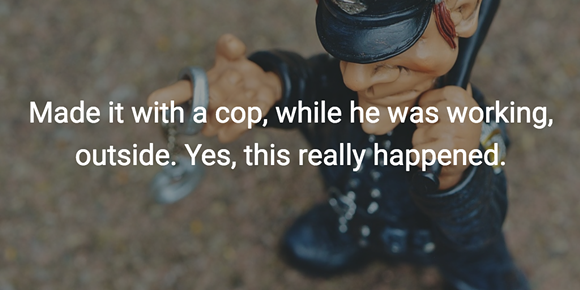 "Being tied to a wall with my hands over my head, flogged with a leather belt and then fucked from behind while still bound. It was the best."
"Co-worker sitting on my desk in a short skirt and no underwear, flashing me and writing a note about what she intended to do once the boss left (the latter was sitting
in
a desk a few feet away)."
"Nothing too crazy. Having sex five times in one day."
"Sex 10 times in one day."
"Picked up a tourist who was staying on Clyde Street and fucked her in the daytime on the street outside the house."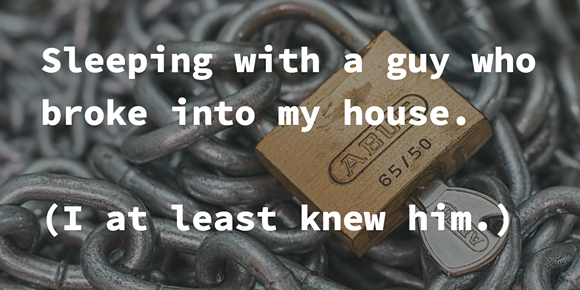 "Working as a caterer, sneaking off with a fellow employee to fuck aggressively in a backroom, with a meeting happening just a few feet away on the other side of the wall."
"Having sex with my wife while she was having phone sex with
boy
toy."
"In high
school
my girlfriend and I were at a friend's house with about 15 other friends and my girlfriend grabbed a blanket and pretended she was sleeping under it on my chest. Friends put a movie on and while they were distracted my girlfriend slipped further under the blanket and gave me a blowjob. For the rest of the
evening
nobody suspected that the girl they were talking to just had a mouthful of my cum."
"A foursome where three of us shared one guy."
"Two super hot guys fighting over me in a bar. I told them they didn't have to argue and we should have a threesome. They agreed and we left together."
"Picked the lock on an 'out-of-order' accessible washroom and fucked a boy I'd met less than 15 minutes prior."
"He tied us both up on the bed, side-by-side, and spanked us."
"Sitting at the dinner table while he turned up my remote control panty-vibe."
"Too many to list—being tied up naked on the lawn once and left there for a few hours (while being filmed) until he said I was 'good and ready.'"
"I was once seeing a girl and we decided to set a sexual goal for ourselves. I was going to try to make her squirt at least once a day for seven days straight (we stopped counting after 10)."
"Roommate's girlfriend walking in on sex and standing there staring just a little too long."
"My lover covered me in whipped cream and berries...then promptly feasted upon the bounty! Just getting into a bit of
kink
as of late...very exciting!"
"Hooked up with a guy who liked to smoke cigarettes while having sex."
"
Fox-tail
butt plug inserted, dildo in my lady parts, while he choked me out and played with my clit."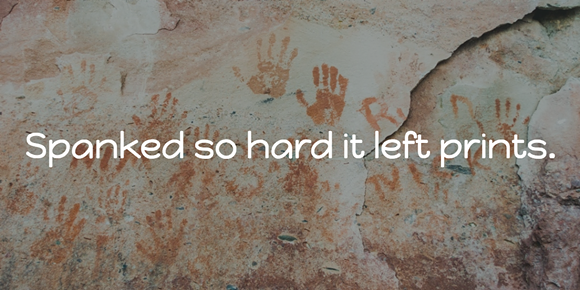 "Doing it in my bedroom with family downstairs during the day."
"An ex-boyfriend who'd greet me at the door, blindfold me, handcuff me and then give me the best orgasms of my life. All just inside the entryway to our apartment so our
neighbors
could hear us in the hallway outside."
"Finger-banged in front of coworkers under a table at a bar by a coworker."
"Double-ended dildo in both of our assholes at the same time ;)"
"I had a threesome. That was definitely kinky. Getting my pantyhose ripped off and tied around my neck was pretty hot too."
"Three guys cum in my mouth, one after the other."
"Partner and I moved into an apartment with a ladder to the loft. He tied me to the ladder and left me there for about half an hour with a vibrator inside me. Really fun but exhausting."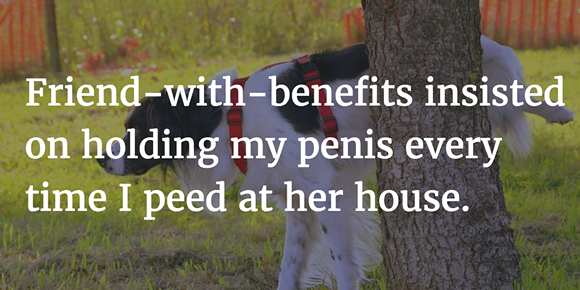 "Neither my partner or I could walk straight for three days. Used muscles we didn't even
knew
we had. And while it was unbelievably sexy and satisfying, we knew that it could not, and should not ever be repeated again."
"Fishnet stocking ripped at the crotch, wine poured on my chest and hands bound to the bed-frame."
"My ex and I spent almost an entire day touching each other under a blanket in a crowded tour bus full of our friends. Somehow no one noticed. Super hot."