In Bittersweet Sands, Rick Ranson recounts a 24-day shift at a closing oilsands operation through conversations and anecdotes with his co-workers. This is his third book.
"One year, I remember being away for eight months.
"That's the year the duffel bag never left the foot of the bed. Any conversations I had with my wife boiled down to grunts and money. I'd come home, we'd have a honeymoon for three days, then one day we'd wake up and we were strangers.
"One night, I just got home for Christmas. It was so cold that the snow crunched like biting into a fresh apple. But that Christmas turkey smelled so rich and it was so warm. We were a family, you know? A family."
There was a clatter and a murmur from the camp kitchen behind us. Both of us looked up as a skinny kitchen staff member in starched whites walked by carrying a mop. After awhile, I returned to my story.
"My wife was facing me, and the kids were sitting in their booster chairs on either side. My wife had made herself and the kids up, because Daddy was home. My kids and house were always spotless. I'll give her that—my ex was a good housekeeper. Their hair was all up in spiky little ponytails. Faces were shiny and scrubbed. My daughters all wore matching white sweaters and little kilts, red and black kilts with white stockings and black shiny shoes. Daddy was home.
"I'm babbling away to the wife. Happier than shit to be home, and a little voice came from one of my kids.
"'When is that loud man going home?'
"'When is that loud man going home.' I don't think I've ever been hurt like that by anybody. I was just numb. My wife gave me shit about not making a fuss about the way the kids were dressed. But I just sat there playing with the food.
"'When is that loud man going home?'
"I tried to stick around a little longer, but you know, really, they didn't need me. Oh, they needed the money. But they had their own lives. They grew up fast.
"Everybody got used to me being away, and you know what? So did I.
"When I did take a job in the city, my kids treated me like an uncle. Still do.
"The more friends you have, the happier you are. Us boomers? We don't have friends. We slop back and forth across Canada like water in a pan, never talking to anybody. Our long-term relationships are a weekend.
"That year up in the Arctic, I made over a hundred grand. That's good money even now. The money's gone, and my kids? They have their own families.
"Their husbands don't travel."
The old construction worker and I mumbled a couple of times but the fire in the conversation had flickered out. Awkwardly he rose. I raised my coffee cup in mute salute. He glanced at me, his eyes lingering an extra second or two. He nodded, then gathered his tray of dishes and walked away down the long row of dining hall tables.
I sat alone in that 600-man dining hall, listening to the kitchen staff rattling in the distance. I held my coffee cup and stared over it south towards the highway. The late-winter afternoon sun made my eyes water.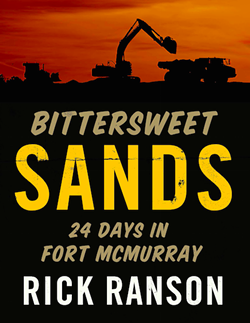 Bittersweet Sands: 24 Days in Fort McMurray is available now from NeWest Press.