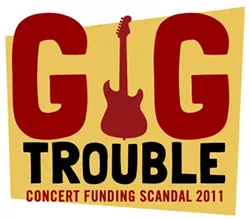 Failed concert promoter Harold MacKay
told the Chronicle-Herald
that the economic impact for last year's Black Eyed Peas and Country Rocks shows was worth the loss to the taxpayer:
The two shows that we did not make money on, and we lost money on, generated $13 million in economic spinoff," he said in an interview.

"Yes, it cost $360,000 to do that because we didn't sell enough tickets, but damn it, at the end of the day, is that not a good business transaction? I mean, God almighty."
Problem is, MacKay appears to be pulling those numbers right out of his ass.
"We did not prepare or supply any additional economic impact or expenditure data related to the other outdoor concerts hosted by Power Promotional Events Inc.," says Suzanne Fougere, spokesperson for Trade Centre Limited.
Fougere says so far as anyone at TCL knows, no provincial department has conduct any economic analyses of the shows. City officials say that they, too, have no such information.
There was what's called a "direct spending profile" completed for 2009's Paul McCartney show. Note that this is not an economic impact report---a spending profile just says how much people spent to go to the show, and doesn't attempt to measure lost or displaced business because of the show. That would take an additional level of analysis that wasn't conducted.
Still, that report shows 26,504 people plus all the promoter's expenses totalled $8.2 million in money spent for the event.
A total of 18,371 people bought tickets for the Black Eyed Peas and Country Rocks show. MacKay would have us believe that even though about 5,000 fewer people attended those shows than attended the McCartney show, they spent almost $5 million more than the McCartney attendees.
The reality is even worse that that. About half of the attendees to the McCartney show came from outside HRM, so at least that half of the audience spent money that wouldn't have been circulating in Halifax anyway.
No study has been conducted, but it's unlikely very many people travelled to Halifax to see the Black Eyed Peas; the money locals spent going to the show was simply money that would've been spent elsewhere locally, meaning it's not really new economic impact.
More, if we're going to get into real economic impact, we'll have to start discussing the hundreds of thousands of dollars owed to local businesses by Power Promotions---that is, the money never paid for services rendered to The Coast, The Chronicle-Herald, Scanway Catering, TourTech, and Royal Flush. And then there's the $359,550 in city revenue that won't be spent on more productive pursuits like street infrastructure and the like.
For The Coast's complete coverage of the Common concert financing scandal, click here.