WHO HE IS
Mike McGuigan didn't aspire to become a trophy maker. In 1980, fresh out of high school and wondering what to do with his life, he was tasked with running his father's new north end business, Downeast Trophies. At the time, he had no idea that this would become his career, and that one day he would look back on 40 years of trophy making with a sense of accomplishment. "My dad and I were proud of this place," McGuigan says. He taps the name plate on his office desk that reads, "Ed McGuigan." "He'll always be a part of the business. We did it all together." His father passed away almost nine years ago, but his legacy is still alive and well.
WHAT HE DOES
A large portion of Downeast Trophies' business comes from repeat customers. Year after year, trophy orders pile in for annual softball tourneys, corporate events and even motorcycle races. McGuigan recently wrapped up an order for 880 medals, 575 custom medals and 300 trophies, which took around a month to complete. But that's nothing compared to the time he was commissioned to build
a four
feet by six feet plaque for the Nova Scotia
Sport
Hall of Fame. "I've built trophies that are taller than me," McGuigan says. "If that's what they want, then that's what they'll get." Not only does McGuigan assemble and engrave the trophies
,
he also does the bookkeeping, cleans the floors and occasionally delivers orders. Despite his unending list of responsibilities, he goes to work happy. "Some people hate Mondays, but I like them," he says. "There's no such thing as a bad day."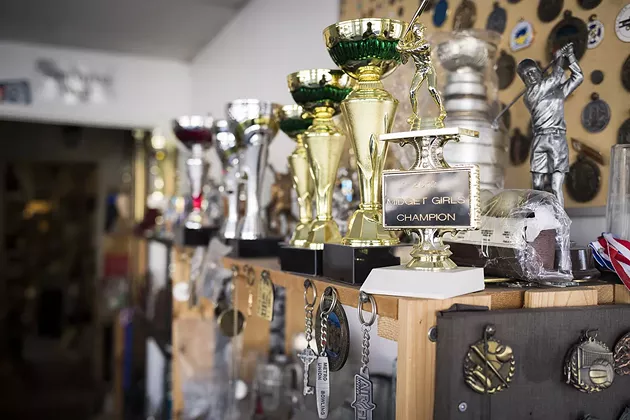 WHERE HE DOES IT
Upon arriving at Downeast Trophies, customers are often greeted by McGuigan's faithful assistant, Molly. The 13-year-old golden retriever is never far from his side. Molly has a bed in his office and a stash of treats on the top shelf—just out of reach. Over the years, she has become synonymous with Downeast Trophies, and McGuigan makes sure to close every business email with "From Mike and Molly." The store's showroom is lined with shelves and bookcases of stock trophies, plastic signs and plaques and bulletin boards tacked with custom medals and lapel pins. In the centre of the room is a tiered stand piled high with trophies and glass awards, and at the very top sits a silver cup attached to a base of green marble. McGuigan and his father bought the cup in Italy in 1979 as their showpiece, and, as you may have guessed, it's not for sale.
WHY IT WORKS
McGuigan credits much of Downeast Trophies' reputation to his father, who taught him that honesty is the best business quality. "Whatever their needs, I'll try to accommodate them," McGuigan says about his customers. "Whether it's a five dollar order or a 5,000 dollar order, you treat everyone the same." He enjoys watching customers gaze at the trophies on display, and he swears he has seen middle-aged adults light up like kids as they poke around the shop. "Everybody likes to be recognized," McGuigan says. "Whether you're five or 55, if you get an award as an accomplishment, then that's something you can look back on and be proud of forever."