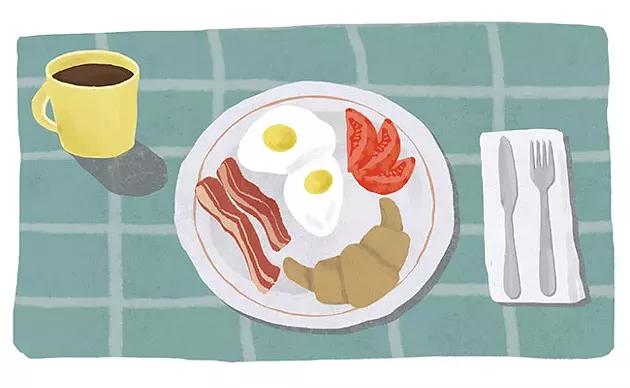 JESSICA HARTJES
Comedian, musician and overworked student Cheryl Hann answers all of Halifax's most-pressing social 
dilemmas.
Dear Ask Hole,
Why, at a restaurant, is food always garnished with other food? I try to eat the garnishes to avoid contributing to food waste, but soggy, BBQ-drenched lettuce SUCKS at the bottom of a plate of wings. Why is this a thing? 

—For Real It's Extremely Sloppy
Dear FRIES,
It seems to me you have two options here: Enjoy your wet, hot, hickory-smoked salad OR hop on board the crazy train of North American capitalist privilege! WOO-WOO! Since you've already expressed how much option one SUCKS, let's explore option two.
[grabs microphone]
Welcome aboard the North American Capitalist Privilege Express. We are so pleased to have you with us. It is your continued patronage that keeps this rusted-out hunk of scrap metal running. We hope you will enjoy today's in-cabin meal, which is poached salmon and rice, served on a bed of poor children's letters to Santa. And, we have a special surprise for our in-cabin entertainment! Instead of showing a movie, we'll be asking our richest passenger to place our poorest in a headlock and punch them repeatedly while shouting, "Stop hitting yourself!"
The estimated duration of our journey is YOUR ENTIRE FRIGGIN' LIFE.
If you'd like to plug into our
on-board
entertainment system, we'll be playing a live stream of Justin Trudeau's recent call to Joseph Kabila: "Joe, baby! We'd love to help you with your food crisis, but we need to cut all of our vegetables into tiny flowers to make our meat look good! Bread? No, we let that rot on our counters and then feed it to waterfowl. Anyway, bye!"
Cool, right? And so hunky! Love you, JT!
Unfortunately, our seats do not recline, but if our passengers in coach could work together to hold up these beds, our first-class guests could probably lie down a bit. First-class passengers, your comfort WILL be directly linked to the oppression of your fellows, but we get the feeling YOU DON'T MIND.
Oh! Melissa is coming through the cabin now with a light snack of chicken wings. At the bottom of the
plate
you will find some dripping wet lettuce. We ask that you please throw it out the window, as we will soon be passing a homeless shelter. If you could hit someone directly in the face with it, that'd be perfect. Enjoy your trip!
drops microphone
In short, FRIES, order a dang salad. It's like a big plate of garnish garnished with garnish. So safe! So tasty! Besides, if you really think about the chicken that produced the wings on your plate, you'll end up with a whole new set of questions, and I'll have to do a big Meat Industry Express role-play. It'll be exhausting for both of us. Best to just avoid the whole thing. Bon appétit!
———

Opinionated is a rotating column by Halifax writers featured regularly in The Coast. The views published are those of the author. Send your 
awkward social questions to 
askhole@thecoast.ca and we might answer it in a future column.