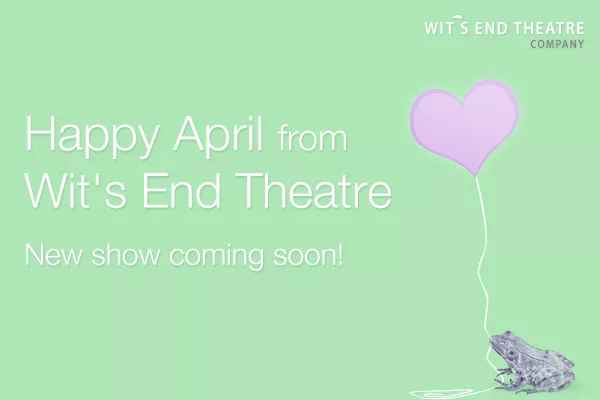 Annnnnd we're back!
Yes, we know, you missed us. In case you're wondering, we did get the flowers, and the chocolate, and that fish wrapped in a bulletproof vest and butcher's paper that we think/hope belongs to our neighbours... 
WAIT, what?! You don't remember who we are because our last blog post happened over seven months ago? Well, that's fair I guess. Ends up graduating and then each of us moving to different cities has been more difficult to our two-year-old independent theatre group's productivity than we'd have liked. Whodathunk?
But back to the presumptuous premise of this post—we missed you too! But with spring heat on our necks, we're defrosting our theatre lives too, with workshops, fundraisers and more to look forward to! But as we've learned, a theatre company like ours is only as good as its parts, so what exactly have we been doing, you ask? 
Well, between marathon sessions of The Wire (Griffin has decided unilaterally that he's the McNulty of the two of us), we've been working… in theatre! Right? Liz has been working in Toronto with a couple of different theatre groups. She was so happy to get to work with Words In Motion on a couple of productions and is looking forward to working with them again in the summer. And as much as she has loved taking classes, working on her stand up, and living in her mother's basement, she has started to long for that strike-infested seaside town she used to call home. 
Griffin, meanwhile stuck it out here and has been working with 2b theatre as a emerging artist in residence while touring with the Halifax production of Ed's Story. Apart from starring in a play and helping promote all kinds of local theatre, he has also managed to write a hilarious and original play, his first work since his award-winning play Dead in Wawa. It's a simple story about a boy, a girl, and the science wars of the 1990s, complete with social constructivism, research methodology, frogs, Moleskines and of course; The Cosby Show. 
In October, Griffin came to Toronto with Ed's Story and described his script to Liz almost exactly as it was described above. She reacted—as I'm sure you did—with immediate enthusiasm and complete understanding, and we agreed we'd workshop it in Halifax this summer. Now as we sort out actors, designers, and producers, we're just looking forward to getting back to work on original Canadian comedy. Wit's End is back and we can't wait to start working with the wealth of talent in Nova Scotia and giving you a real portrait of the artist as young alcoholics—I mean, people. So keep checking back here for all of our obviously hilarious and exciting updates.
Yours as ever, 
Liz and Griffin.
PS: Happy April