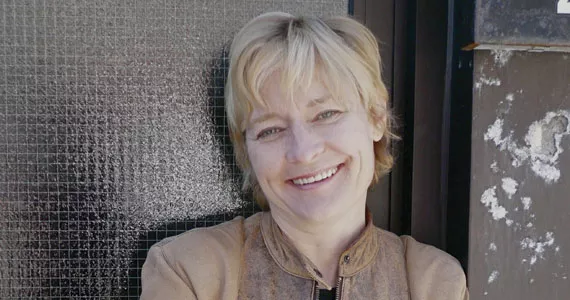 Action director Kari Skogland appears at Women Making Waves this weekend.
Kari Skogland is unique. She's a Canadian, female filmmaker who would rather make Quentin Tarantino-inspired films than romantic comedies or indie dramas. Her last film, the 2008 political thriller Fifty Dead Men Walking starring Ben Kingsley, certainly shows her love for action.
"I love blowing things up," says Skogland. "I like bringing the female perspective to action films. Women shouldn't be marginalized."
Women from across Canada are coming together for the second annual Women Making Waves conference, held in Halifax March 9 to 11. Sponsored by Women in Film and Television-Atlantic, the three-day networking event will feature various panels and the WAVE Awards, an awards ceremony with no predetermined categories honouring women in the industry.
"There's a real need for women to network with other women," says Jan Miller, co-chair of WMW. "We face challenges around balancing life and being in a male-dominated industry. This conference is about vision and support."
The conference kicks off with a workshop featuring Skogland. The veteran director and writer has been making waves in the industry for years---she began as a commercial editor and moved onto the series Traders. Her freelance days fixing scripts led her to write Liberty Stands Still, the 2002 thriller starring Wesley Snipes, which landed her on The Hollywood Reporter's Top 10 Directors to Watch list.
"I learned to how to write good scenes because I would be fixing scripts for free," says Skogland. "I really wanted to pursue writing. I didn't want to lose sight of my own work."
Recently, Skogland wrapped up directing episodes of Boardwalk Empire and The Borgias. She believes the best female-driven work is being done in television---while shows can develop audiences over time, financial constraints tend to make film production companies stick to traditional tastes. That means more action, raunchy comedies and fewer dramas. "The female audience is strong in television but film studios don't know how to get that," says Skogland. "That's why the success of Bridesmaids is an anomaly. We don't have female-driven films because there isn't a model on how to make money from those films."
There's also an established female talent and audience for sketch comedy, and Atlantic Canada is well-known for it. Christine Taylor grew up learning her comedic tricks in Newfoundland with Mary Walsh and Rick Mercer. "I needed other women to knock on doors for me," says Taylor, one of the Women in Comedy panelists. "I wouldn't have had half the opportunities without their help."
Taylor writes most of her material. As with Kristen Wiig and Annie Mumolo penning Bridesmaids, writing their own parts puts more funny women in front of audiences. "I love writing my own sketches," says Cheryl Hann, a member of Picnicface and comedy panelist. "I was pushed to create characters that I wanted to play. It feels empowering to have the audience laughing at my work."
Empowerment, support and advice are what women hope to gain at WMW. "This is a crazy, tricky, unforgiving business," says Skogland. "You can't be bothered by people looking at you differently as a women. Just be brass and go for it."
Women Making Waves, March 9-11, Mount Saint Vincent University and the Lord Nelson Hotel, For tickets and program information visit wift-at.com.