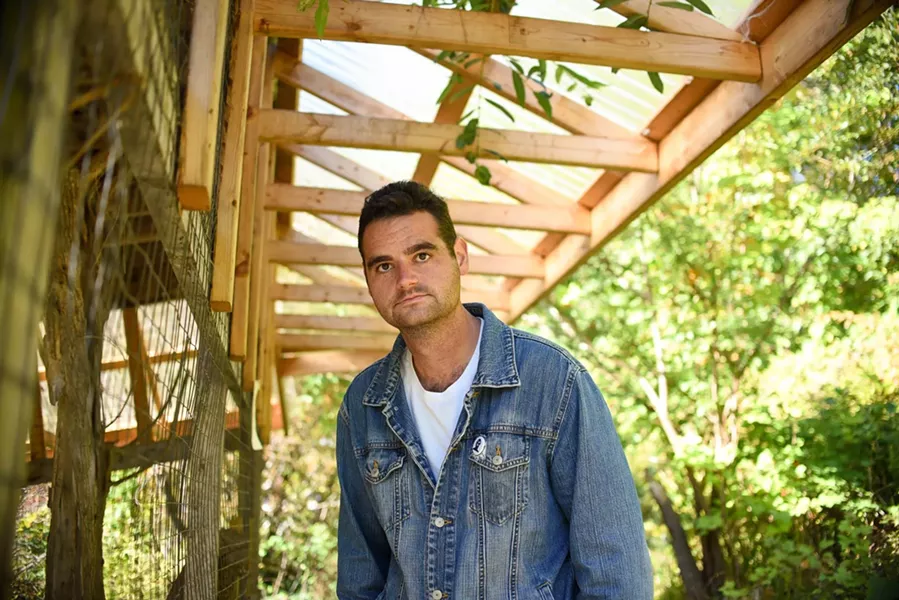 SUBMITTED
Dylan Jewers is a writer and musician from Dartmouth. He runs a literary journal called Lost Documents and is the co-producer of Big Turnips, a folk, country and blues compilation series.
When I was a kid, they used to just leave stuff to sit and rot in Dartmouth. It has long been ignored as a treacherous wasteland. King's Wharf was once a rat-infested paradise for pot smoking, rock-throwing
ne're-do-wells
. Shannon Park was the flashlight-tag capitol of the Urbanized Maritimes. Now, the developers and entrepreneurs are filling as many vacant lots as they can; assuring everyone that the kids and bedlamites of our City of Lakes will one day have nowhere to hide.
The abandoned Victorian Schoolhouse on Ochterloney and Irishtown Way, an exhilarating place for young scoundrels to raid and explore in the dead of night, was gutted and remodelled to make loft apartments for this new breed of Dartmouth gentry.
Crack-Alley was the name given to a small row of houses on Victoria Road between Portland and Queen (directly behind the Downtown Dartmouth Business Commission). It was demolished a few years back. Some kids turned the red brick rubble into a series of small bike trails, but the city has since paved the plot over.
Main Street in Woodlawn (East Dartmouth) is under development. The folks in charge have a 20-year plan. Good thing. It'll take at least that.
Main Street is where I grew up as a child. It's where my mother still lives. I go there every Sunday for dinner. Main Street is a cesspool, where fishermen sell lobster and clams out of trucks in a gravel lot laying next door to a [former] strip club. The only way to give that block a little zest is to demolish the area entirely—a concept people of Halifax County are more than familiar with.
Where do all the people go once they've been driven out by art galleries, cafes, organic restaurants and condo developments? They get pushed to the north end, where change is far off. They go to Lakecrest and Lakefront, where the apartments resemble jail cells and the rent is always affordable. They go to Kennedy Drive. They go to Bruce Street, or, they fuck off across the drink to Fairview, Spryfield or Mulgrave Park. What happens when those areas become "civilized?" Well, I'd guess that they get pushed into the woods to die cold, hungry and robbed of their dignity.
I'm not waving a flag against gentrification, nor am I singing its praises. I've tramped around Downtown Dartmouth for seven years and in those seven years, I've seen many changes. There have been many positive aspects—the pimps and sex workers are not as visible. Street fights and stabbings have decreased. I'm not bombarded with requests for cigarettes or loonies quite as frequently.
Mr.
Plaskett opened a record shop where they serve coffee that doesn't taste like plastic or tomato sauce. There are more places to eat and I don't get asked every three weeks by Haligonians why I don't move over to the north end.
Regardless, I'm not leaving until the rave kids take over. It's easy to scoff at the tattooed, Blundstone-wearing, craft-brew drinking 20-somethings. It is also easy to laugh at the VLT drunks in concrete encrusted work-boots. It all depends on which side of the line you're on.
Gentrification pleases many of my friends and
neighbors
. They feel pride in our slow-moving developments, and who can blame them? Meanwhile, my anarchist pals have plenty to say, but what the hell do they know? I guess we can all agree that having a craft beer bar, café and meat pie shop right next to a soup kitchen is a tad bit insulting. Gottingen Street is no different. The kids seem to love it down there. Those fellas at the Salvation Army never cross the road.
Portland Street was once so busy on a Saturday night that you couldn't be on the sidewalk. There are pictures to prove it. But 1947 was 70 years ago. No matter how many condos, cafes, barber shops and galleries you cram downtown, there will never be a Downtown Dartmouth like that in my lifetime.
Nieforth Furniture
on
Portland is actually closing, and the parking lot out back is up for sale. That place has never appeared to have had much traffic, but it has remained a Dartmouth icon. It was a general store in the '50s and '60s. Jim Henman of April Wine once told me that he purchased his first electric guitar down there. As a teenager, I assumed the place was a front for some sort of shady business. There was never a soul inside apart from
Mr.
Nieforth himself.
Assumptions are dangerous things to make. That said, I will bet you one chocolate croissant from Two if by Sea that a condo is coming. It will probably be fully-furnished for transient professionals.
Downtown Dartmouth may be getting "better," but I have a strong feeling it will be decades before it becomes the Lil' Brooklyn that these business owners and would-be designers strive for. Hard as they may try, concrete crusted work-boots still cover more sidewalk space downtown. The working poor
are
dug in and will hold their ground tenaciously even as the rents get jacked up.
The dive bars ain't going nowhere unless the developers want to give the owners a few million each. Those guys have been slagging it out downtown since before crack hit Nova Scotia and when the Angels ran the show. They deserve a big payout before all they've worked for is bulldozed to the ground.
———

Voice of the City is a platform for any and all Halifax individuals to share their diverse opinions and writings. The Coast does not necessarily endorse the views of those published. Our editors reserve the right to alter submissions for clarity, length, content and style. Want to appear in this section? Submissions can be sent to voice@thecoast.ca.