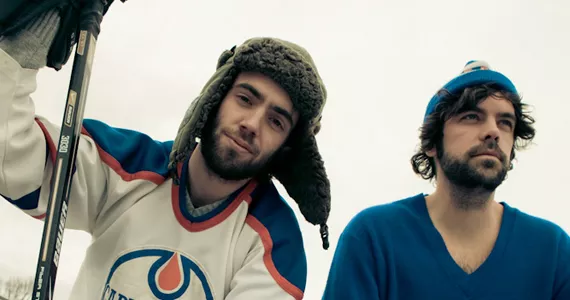 Jersey boys The Town Heroes.
Chatting over lunchtime plates of mac and cheese (real, not the fake stuff), The Town Heroes seem like possibly the most unassuming, self-deprecating band in existence. For the past two years, the Cape Breton duo of Mike Ryan (guitar, vocals) and Bruce Gillis (drums, backing vocals) have transcended their cover band roots by crafting hooky, classic indie rock songs with a huge sound that belies their minimalistic set-up. "We don't get yelled at," says Gillis. "That's successful I guess."
Not getting yelled at is an admittedly low bar to set, but one that they have leapt over with ease, due to talent, of course, but also because of their punishing work ethic. A Music Nova Scotia showcase in Germany, a Canada Day concert at Alderney Landing, Nova Scotia Music Week nominations, playing the ECMAs, Halifax Pop Explosion, Evolve and more have made this a memorable year for the pair.
But The Town Heroes certainly don't abide all work and no play. To look at their website and Twitter account, one gets the impression they have infinite free time in which to entertain themselves (and, by extension, us). In reality, Gillis works full-time ("I have Homer Simpson's job") and Ryan makes ends meet by taking odd jobs---extra work, taste-testing new Tim Hortons sandwiches, whatever comes his way. But there's always time for hilarious online musings. These include a cover of Rihanna's "Only Girl (In the World)," featuring Ryan's beautiful, plaintive delivery interspersed with comical displays of manliness; a year-end list featuring hot ladies, smoking babies and memorable sandwiches; ridiculous tour video blogs or a particularly hilarious imagining of German history.
Not only trying to amuse themselves, they keep fans engaged with Fun Fridays, when the band thinks of quirky ways to reach out to the people who support them. One Friday involved them making a chocolate cake and delivering it to the contest winner. The baking was intercut with a live performance.
Polite, without pretense and brimming with humility, Gillis and Ryan take none of their wildfire success for granted. When told they won Best Band in the survey, they're taken aback. "Mom's gonna be some happy," says Ryan. "We're big momma's boys," admits Gillis. Support from Music Nova Scotia's executive director Scott Long paved the way for them to be included on the organization's showcase at Hamburg, Germany's Reeperbahn Festival.
"I got on German television," says Ryan. "I was busking and they filmed me."
"I went to Subway," says Gillis.
"I just like busking, I wanted to sit down on a beautiful day in Hamburg, with my Cape Breton Oilers jersey on, play music and watch beautiful people," says Ryan.
And like that sunny Hamburg day, it's paid off for The Town Heroes to put themselves out there. Before filming their video for "New York City," off the upcoming Sunday Movies (scheduled to be released this summer), they contacted some notable New Yorkers to appear. The premise is "just two Cape Bretoners hanging out in New York---walking around like kids being amazed by the big buildings," says Gillis. The group tried to use its affable nature to its benefit.
"We wanted to make the video as good as possible. We had no budget so I took a long shot of trying to get celebrities to appear in the video," says Ryan. "I tried to get in touch with Jay-Z's manager, sent an email to his label and one to Natalie Portman's agent."
"A cab driver told us where Jay-Z lived, in Trump Tower," says Gillis.
"We went but couldn't find the doorbell," says Ryan.
"We were standing out there like couple of idiots!" says Gillis, laughing.
"I think if there was a chance he'd have seen those emails," says Ryan, "he would have done it."
And no doubt if he did, Jay-Z, like the rest of Nova Scotia, would have been thoroughly charmed by The Town Heroes.