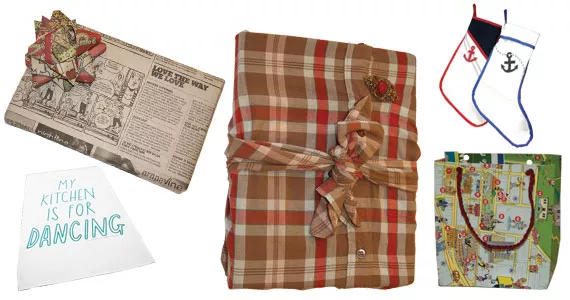 1) A free and easy wrapping paper replacement? This very page, friends. After you finish reading this article, it'll make some mighty fine wrapping material, and Coast covers and comics make for even more attractive prezzies. Tip: make your own bow, too---the one pictured was made using the cover of last year's holiday planner.
2) Wearable wrapping paper: It's a thing. Take yourself to ye olde thrift shop, buy a rad plaid shirt in your buddy's size and wrap it up in furoshiki (Japanese wrapping cloth) fashion with some pinning and sleeve-tying. Tip: A vintage brooch brings this package up a notch.
3) A stocking is a great way to package gifts that have bits and pieces. Either wrap all the components separately (in newspaper, duh) and fill the stocking up with little surprises, or throw them in as-is and top with paper. Also, if your gift comes in a bottle, this sturdy alternative to a bag is a winner. Handmade stocking by Windbag Company of Nova Scotia, available at the Seaport Farmers' Market, 1209 Marginal Road
4) In a similar style to number three, wrap your gift in another gift. Maybe it's a scarf, or a tea towel or a wall hanging. Regardless, using fabric as the outer layer of your gift cuts down on a lot of waste. Joy of Ex Foundation tea towel, Inkwell Modern Handmade Boutique and Letterpress Studio, 1658 Market Street, 405-8309
5) Gift bags are surprisingly easy to make. A little measuring, a little folding, a little gluing and a little hole punching and you've recycled your way to gift-giving greatness. Maps, magazines and posters are great materials to use. Tip: If you use a copy of The Coast, make it two-ply for sturdiness.
For tips on how to wrap like a star, tear it up at thecoast.ca