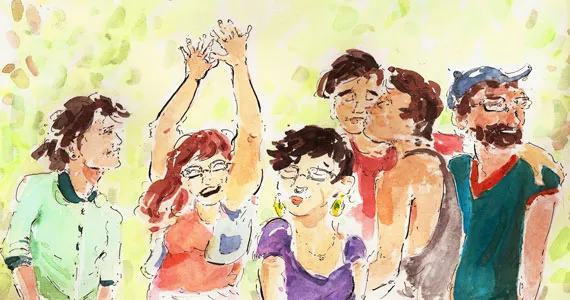 Sarah Creagen
This year's 25th anniversary of Pride is going to be bigger without breaking the bank.
You might not want to wear white to the WetSpot party, this year's Pride wrap-up event (July 28, 10pm-2am, Garrison Grounds, $16 advance tickets, $20 at the gate).
"Rumour has it there's going to be a lot of Super Soakers around," hints Pride Week festival chair Krista Snow mysteriously.
Snow hopes to bust some misconceptions with this year's party. Many Pride Week goers view the wrap-up parties as events geared mostly at the lesbian scene: "Typically everyone calls it the women's dance, but it wasn't ever just for women. It's just women who go to it," Snow explains. This year, she hopes to "put that myth to bed" by hosting the festival at a unique location.
Snow's secured the Garrison Grounds on Citadel Hill for the event, promising to transform the site in a "really special" way. She's keeping mum about what the theme is going to be, hoping to surprise guests instead. But she does assure me that people are going to want their cameras and it's going to be a "big, slamming party."
For Pride's 25th anniversary, Snow had the tough challenge of trying to get the festival out of debt, while simultaneously pulling out all the stops. "My biggest hope is that everyone has a good time first and foremost, and that secondly there's no debt," she says. Snow, who works as a financial consultant for Investors Group, brings a business background to the festival. "This board and last year's board as well have been extremely fiscally responsible," she says.
But don't think that means the party's going to be no fun. "It's the 25th anniversary of Pride and we needed to do something a little bigger than in years before," Snow says. If everything goes according to plan, party goers can catch a fireworks show from the hill at 10pm. Listing the fireworks show on Pride's website may have been a "a bit premature," admits Snow, as the festival is still waiting on the City's permission. Still, she remains optimistic about the fireworks: "They're not secure, but we're hoping that we're going to be okay." Aside from fireworks (fingers crossed), guests can gyrate to the sounds of Jules Bangsworth and DJ Regalia at the outdoor party, and capture their Pride party memories at a photo booth.
Snow, the former city councillor for Waverley, Fall River and Beaver Bank (2003-2008), joined Pride's board last year and took the job as chair in order to "do her part" as a member of Halifax's gay community. It hasn't been an entirely easy ride. "This board is a second full-time job, so it's been challenging to say the least," she says bluntly, adding that the festival "needs full-time people." Planning the festival has also had tragic undertones for Snow, who intimates that her health began to suffer after the killing of Raymond Taavel this spring (see page 13). But chairing the festival has definitely had its ups as well: "The community is so much larger and outreaching than I ever dreamt it was," Snow says. "It's really nice to see how large it is." Let's hope we see everyone out partying July 28th.