LIFESTYLE EDITOR WANTED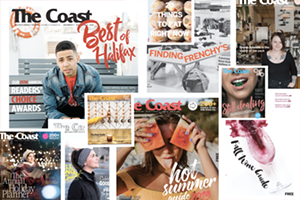 The Coast is hiring a full-time lifestyle editor to join our award-winning editorial team. This editor has a wide-ranging, interesting beat, and is responsible for leading The Coast's coverage of:

Halifax's food and restaurant scene
Bars and booze
Small business
Home style
Cannabis
Fashion
This job involves writing, and the lifestyle editor will make substantial contributions to both the web and print editions of the paper, plus our City Guide publications, as well as recruiting and managing freelance writers.
JOB RESPONSIBILITIES
Plan, assign and file content on deadline for such Coast sections as ShopTalk and Food + Drink.
Write stories and features for The Coast's print and online editions in The Coast's voice.
Plan, assign and write content for The Reef weed supplement's print and online versions.
Manage and recruit freelance writers.
Use social media to bring attention to Coast content and strengthen Coast social-media presence.
Attend openings, tastings and events outside of normal office hours.
Contribute to our City Guides, special issues and Best of Halifax.
Work with production department on selection of visuals to accompany stories.
Manage the inflow of pitches, requests for coverage and readers' concerns.
Maintain professional relationships despite saying "no" more than "yes."
SKILLS
Strong communications skills with the ability to create clean and accurate content.
Second-nature understanding of
social media
and other online culture.
Experience working with content management systems including WordPress a plus.
Being self-motivated, organized, accurate, detail-oriented.
To apply, send cover letter, resume and clippings by email to kyle@thecoast.ca.
Application deadline is Monday, January 27 at 10am.
The Coast is an equal opportunity employer. No phone calls please.
---
INTERNSHIPS
The Coast offers editorial internships to students who need to fulfill academic requirements. These unpaid internships are a minimum of 4 weeks and focus on reporting, writing, photography and design. Internships involve working closely with Coast editors as researchers and assistants. Assignments for the paper or the web will be assigned. Please note that we cannot accommodate volunteers or short-term placements.
Potential interns should send a cover letter, samples of work and intern requirements (length of placement, editorial focus) to:
The Coast Internship Program 2309 Maynard Street Halifax, NS B3K 3T8